Explore one of Chicago's most popular neighborhood with our guide to the best things to do in Logan Square
By now, you've likely heard that Logan Square is a destination for inventive cocktail bars and home to some of the best restaurants in Chicago, but the neighborhood's appeal goes beyond its fancy drinks and dishes. Go for a stroll on Milwaukee Avenue and you'll encounter some of the area's most popular attractions, including arcade bars, art galleries and one of the city's most well-attended farmers markets. Keep exploring and you can spend time in one of Chicago's largest parks or get a new perspective of the area from atop the elevated 606 trail. If you're looking for things to do in Logan Square, you definitely have some options.
RECOMMENDED: Our complete guide to Logan Square
The best things to do in Logan Square
The Logan Theatre is the unofficial landmark of the neighborhood, outfitted with a towering neon sign that let's you know eactly where you are. This renovated theater features an upgraded sound system, screens and projectors, and perhaps best of all, a lobby bar and lounge that hosts events like live comedy and movie trivia. You'll find a diverse mix of new releases, second run movies and indie flicks in addition to a robust lineup of midnight screenings of classic favorites each weekend.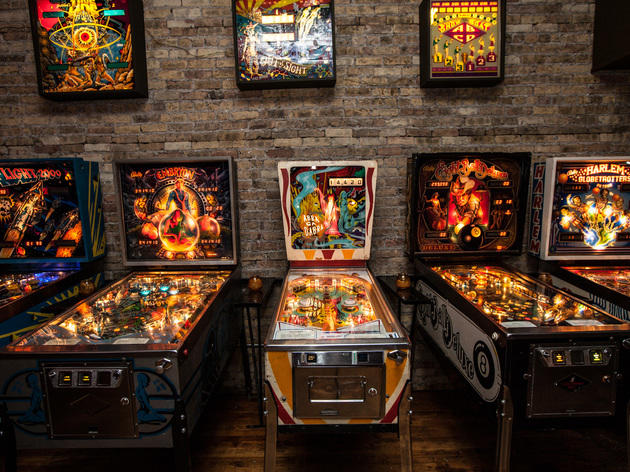 Located in a former hardware store (hence the signage on the building's exterior), this popular neighborhood destination is a blinking, beeping menagerie of lovingly restored arcade games. Grab a beer or cocktail at Logan Arcade's bar before you snag some quarters from the change machine and start sampling the games, most of which are outfitted with a nearby ledge where you can rest your beverage. The machines are rotated with some regularity, but you'll usually find one of the city's largest collections of pinball machines in addition to a smattering of old-school video games, such as Ms. Pac-Man and Q-Bert. Make a beeline for the very back of the arcade to check out the Killer Queen cabinet—a 10-player game that has developed a cult following.
Built in the early 1900s, this small building in Logan Square used to be a place where trolly riders could stop to rest during their journey. Logan Square Preservation took the building over in 2010, turning it into a community art space. Comfort Station regularly hosts art exhibitions, live music and film screenings and provides a public meeting place for neighborhood residents of all ages.
You probably just know it as "That big column in the middle of the square," but it does have a name—and historic value. The Illinois Centennial Monument commemorates the 100th anniversary of the state of Illinois being accepted into the Union. The monument also serves as the site of the annual Logan Square Arts Festival, which brings music, food, drinks and vendors to the park surrounding the towering structure. When the weather is warm, you'll find folks relaxing on the monument's steps and in the surrounding park.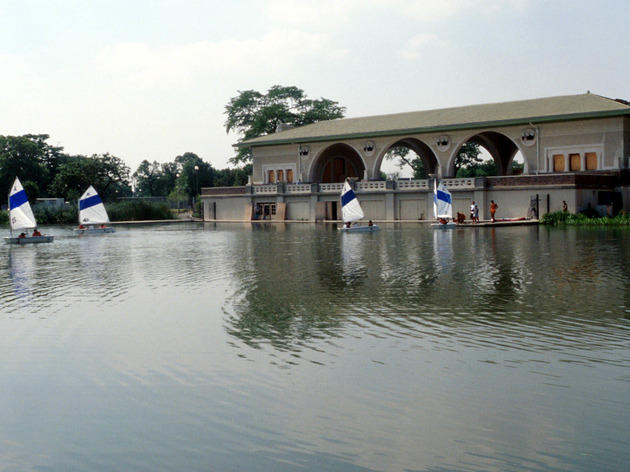 Designed by William Le Baron Jenney in the mid-1800s and enhanced several years later by Jens Jensen, Humboldt Park was once the nation's greatest public park, boasting acres of Prairie-style gardens, grazing animals and a meandering river scene. Though the animals are long gone, the park is still a gem among Chicago's public green spaces, filled with lagoons, tennis courts, an inland beach, a fieldhouse, baseball fields and bike paths. Wandering through the area long enough and you'll probably come across the Humboldt Park Boathouse, an iconic example of Prairie style architecture.
Need something to hang on your wall? You'll probably find something that fits in with your decór at Galerie F, which stocks prints and posters of all sizes in its Logan Square store. You'll find work by local and national artists, including concert posters, limited-edition movies posters and prints packed with pop-culture references. Galerie F's also host shows and openings, where you can swing by to peep some fresh art and have a drink or two while you browse.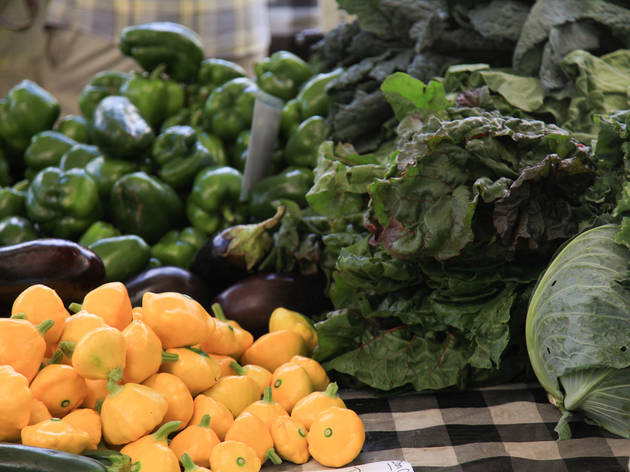 In the spring, summer and fall, the Logan Square Farmers Market sets up every Sunday morning along the neighborhood's historic boulevard (a few steps away from Milwaukee Avenue) and welcomes vendors from Wisconsin, Michigan and downstate Illinois. You'll find plenty of seasonal produce, farm-raised meats and fresh baked goods, but you'll need to arrive early if you want to beat the crowds of folks who show up to shop and socialize. When the weather gets frigid, this market heads inside for the season—this year, it takes place in Logan Square's Emporium Arcade Bar each Sunday.
A formerly abandoned stretch of elevated railway track that runs through Logan Square, Humboldt Park, Wicker Park and Bucktown has found new life as the 606. Named after the first three digits in every Chicago zip code, the 2.7-mile path provides a quick way to travel east and west on the North Side, connecting several parks and public art installations. Prepare to dodge strollers, bicycles and residents out for a very slow jog on this popular throughway.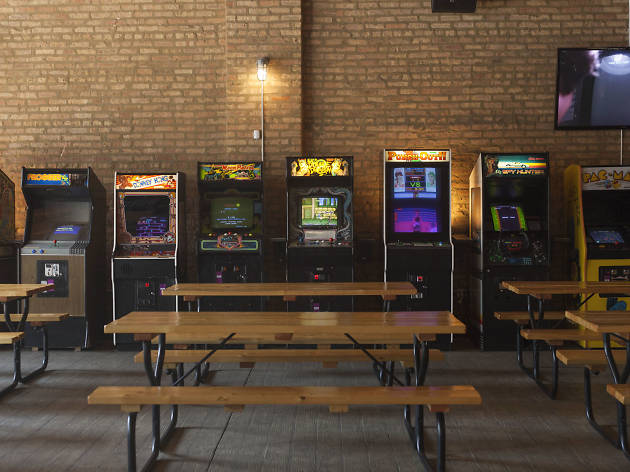 Emporium Arcade Bar's second Chicago outpost is a bit of a departure from its original location in Wicker Park. The Logan Square version has fewer arcade games but boasts much more space to sit down, stand or make your way to the bar, which serves several draft beers as well as a cooler full of cans. All the extra space means that there's room for table games, including pool tables, air hockey, skeeball, miniature bowling and more. Plus, there's a decomissioned food truck that hosts various chefs and vendors if you need a snack between high score attempts on the pinball tables.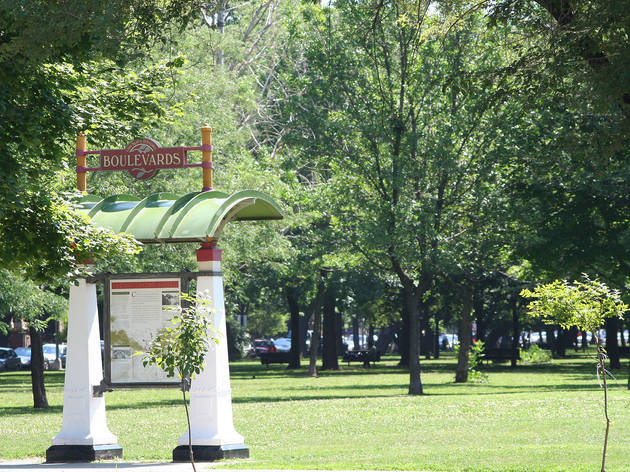 Named for the 15th governor of Illinois, John McAuley Palmer, this seven-acre park located between Logan Square and Humboldt Park dates back to the creation of the boulevard system in the 1870s. Palmer Square was a popular spot for cyclists (or "wheelmen") in the early 1900s, though you're now more likely to find runners on the track that circles the park's perimeter. Kids will appreciate a playground inspired by the classic book The Velveteen Rabbit.
Yes, we know—technically this one's in Avondale, but if you're in the area, the Revolution Brewing was founded at its Logan Square brewpub, so we're giving it a pass. As one of the largest breweries in Illinois, Revolution's Kedzie Avenue facility makes dozens of Rev brews in-house. Learn from the brewers themselves about how they craft the unique, flavorful drinks Chicagoans just can't get enough of. Plus, two beers are included with your tour ticket.
The Hairpin Arts Center is a non-profit arts center established by the Logan Square Chamber of Arts in 2011. It resides in a building built in 1930, which was once home to the Hump Hair Pin Manufacturing Company. The Arts Center offers year-round arts and cultural programming for the neighborhoods of Logan Square and Avondale.