WHAT CHRISTMAS FLOWERS TO DECORATE WITH
Flowers are Mother Nature's very own decorative ornaments, so it's no surprise that they've become a staple of Christmas décor all over the world! There are so many
 

festive blossoms

 

to choose from, it's impossible to stick with just one when you're adorning your home for the holidays. Read up on the most popular Christmas flowers and how you can merry-fy your home with them this season.
Poinsettias
With its long, velvety red leaves, the poinsettia is the definitive Christmas bloom. But did you know that it's actually a tropical plant? Read our blog post on the history of poinsettias to find out how they became associated with Christmastime, and use our poinsettia decorating ideas to spread the Christmas spirit!
Mistletoe
One wish that's sure to make everyone's Christmas list: to snag a kiss from that someone special standing beneath the mistletoe! Before you hang the smooching plant in your doorways, check out our blog post on the story behind mistletoe to brush up on your knowledge of Christmas' most romantic greenery. Pucker up!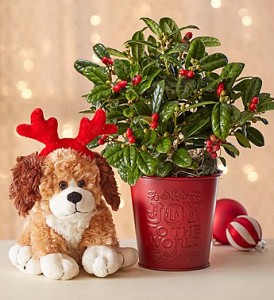 Holly
These prickly little green leaves and their vibrant red berries garnish everything from Santa hats to tableware during Christmastime. But decking the halls with boughs of holly is hardly a modern custom: The Druids used to hang it on their windows to ward off bad spirits. Now, Christians associate the red berries with the blood of Jesus, and the pointy leaves with the crown of thorns Jesus wore when he was crucified. Use fresh holly to embellish wreaths, garland, table settings, centerpieces, Christmas presents … just about anything you put your mind to!
Ivy
Ivy was the plant dedicated to Bacchus, the Roman god of wine, who wore it on his head as an emblem of eternal life, good luck and fertility. Because of ivy's tendency to grow in an upward spiral, Christians today deem it a symbol of Jesus' resurrection. Give tidings of joy to your guests or passersby by propping up this ivy topiary trio on a fireplace mantel or a large windowsill.
Christmas Cactus
For those who live in warmer climates, the Christmas cactus has become the go-to alternative to a Christmas tree. This year, take some tips from Australian, African and South American traditions: Shake things up and try decorating a cactus with your beloved ornaments! Show off your zesty Christmas décor in the kitchen, in a bathroom or in any other unexpected spot in your house.
Lilies
Lilies come in a variety of festive colors and patterns, like snowy white and even candy stripes! This beautiful star-shaped flower is perfect for decorating a Christmas tree. Read our easy tutorial to see how you can make your own ornaments out of these fresh blossoms.
Amaryllis
The red, bell-shaped blooms of the amaryllis are reminiscent of the golden Christmases of yore. This flower with old-world beauty is available throughout the late winter, making it a choice item to decorate with during the Christmas season. Place an Amaryllis bulb on a side table or coffee table to bring some extra comfort to your living room.
Ornithogalum
Otherwise known as "the star of Bethlehem," this brilliant white flower shines brighter than the North Star. Set in a luminous vase and surrounded by soft candles, a Star of Bethlehem bouquet can bring a lot of dazzle to your dining room table.
Which flowers have you incorporated into your Christmas traditions?